Imagine waking up and finding out a whole country hates you…
Welcome to my world. I mean, I'm used to whole social networking sites deciding I'm a jerk (and yeah, I ask for it most of the time), but a whole country?
I wake up one morning and take a harmless Facebook Quiz (which are ALWAYS 100% accurate) to get this result:
Well screw me sideways! Are you kidding me? 🙁
*sigh* As an American, you'd think I'd be used to this. Ever since the internet age, I've been constantly bombarded with messages by nasty foreigners who can't stand us. Let's face it… YES, we (Americans) are loud and obnoxious… and we LOVE a good war! Especially the ones where we'll kick your 3rd world ass in 5 days or less.
Most of these countries are just asking for it… and their only saving grace is we can't find most of them on the map yet… so keep running your mouths, ok?
Now I haven't contacted the State Department over this insult (YET!!!). After seeing that the Swiss are basically armed with…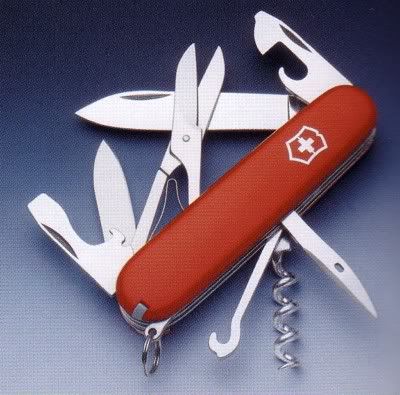 OK… the corkscrew part does scare me a little bit…
… I'm pretty sure I can take this country over with my daughter's Girl Scout troop.
Why hasn't anyone else ever thought of taking over Switzerland and giving them a swift kick in their Liederhosen? Bastards.
I found this while researching my new enemies….
Sick of the Swiss
Uploaded on Mar 3, 2007
The Kids in the Hall don't like the Swiss, and for good reason! Commenters: Please note that this is a comedy sketch, the KitH are not really sick of the Swiss.
I can't believe they needed to post some disclaimer "Please note that this is a comedy sketch, the KitH are not really sick of the Swiss.", are these people THAT whiny? That didn't stop the FLOOD of anti-American rhetoric in the comments.
Funny thing is… the Kids in the Hall were CANADIAN.
Yeah, we're used to that too. Canada is like the 12 year old kid living in the floor above you starting shit by throwing water balloons out the window, but the soaking-wet & angry people come to US on the first floor because they're just too pissed off and lazy to think.
(This, of course, makes Central & South America as living in our basement. A very crowded basement… filled with every Hispanic stereotype and joke you can come up with in the comments… but I digress…)
I'm currently searching for Switzerland on Google Maps, scanning through Southeast Asia trying to get a lock on them. And when I do…YOUR ASS IS MINE, SWITZERLAND!
Made by the One and Only Smart Ass Blog Kamikaze… who is back, bitchez!
Aren't they supposed to be a 'Neutral' Country?
What is their PROBLEM with me????